>> This post is aimed at faculty and educators planning study abroad and work experience placements for students at further and higher education institutions in the UK. If you're a student, check out our blog on funding tips.
Caribbean Elective has been organising study abroad and work experience programmes in the Caribbean for over six years. And in the last academic year alone (2021-2022), we hosted over 250 students for work experience programmes funded by the UK government's Turing Scheme. 
If you're not familiar with it, the Turing Scheme is the UK government's programme to provide funding for international opportunities in education and training across the world. It's a fantastic scheme and is giving thousands of students valuable opportunities to enhance their skillset and broaden their world perspectives.
If you're wondering how to organise a Turing-funded work experience programme for your School, Further Education (Sixth Form & College) or Higher Education (University) students, read on – we're here to help! 
The deadline for applications to the Turing Scheme for the next round of funding will likely be in March-April 2023– just around the corner. For this round of funding, we will be running Caribbean work experience programmes from September 2023 to August 2024.
What does a Turing-funded programme with Caribbean Elective look like?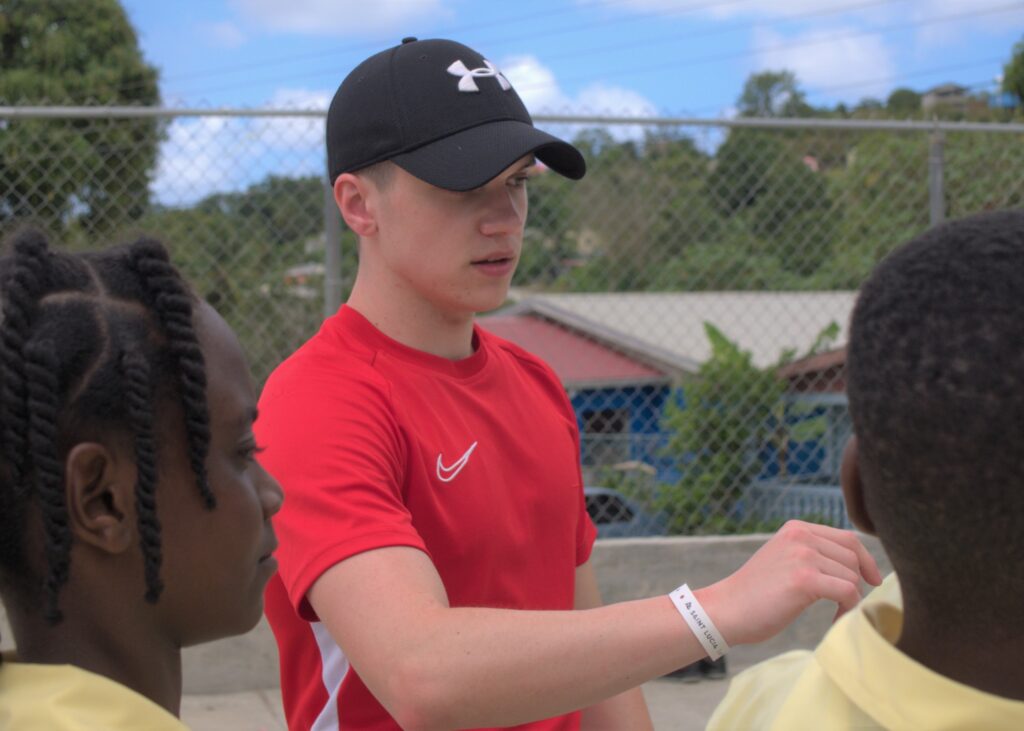 Over the last 12 months, we have hosted a number of successful work experience programmes in the Caribbean, funded by the Turing Scheme. Here's a quick summary:
Turing-funded Animal Care & Marine Conservation Trip
We welcomed 10 students studying Animal Care and 2 staff for a two-week action-packed programme. Students worked at the Saint Lucia Animal Protection Society helping to care for rescued animals and conducting marine conservation research. There were also really exciting enrichment days built into the itinerary such as a day spent with a canine behavioural specialist which adds variety and a really unique learning experience to the trip.
Turing-funded Catering Trip
We welcomed 10 students studying Catering and 2 staff for an immersive and unique two-week farm-to-plate experience. We wanted the students to understand the true value of ingredients and where they come from. So, the trip started with a number of visits to local farms and plantations, and students left with an understanding of the value of sustainably and ethically sourcing ingredients. Next, it was time for some incredible cooking masterclasses. In these sessions, students learnt about Caribbean cuisine and how to cook Saint Lucian style from some of the islands leading chefs! Finally, the trip concluded with 3 days of work experience on the front line of service at the amazing Sandals hotels.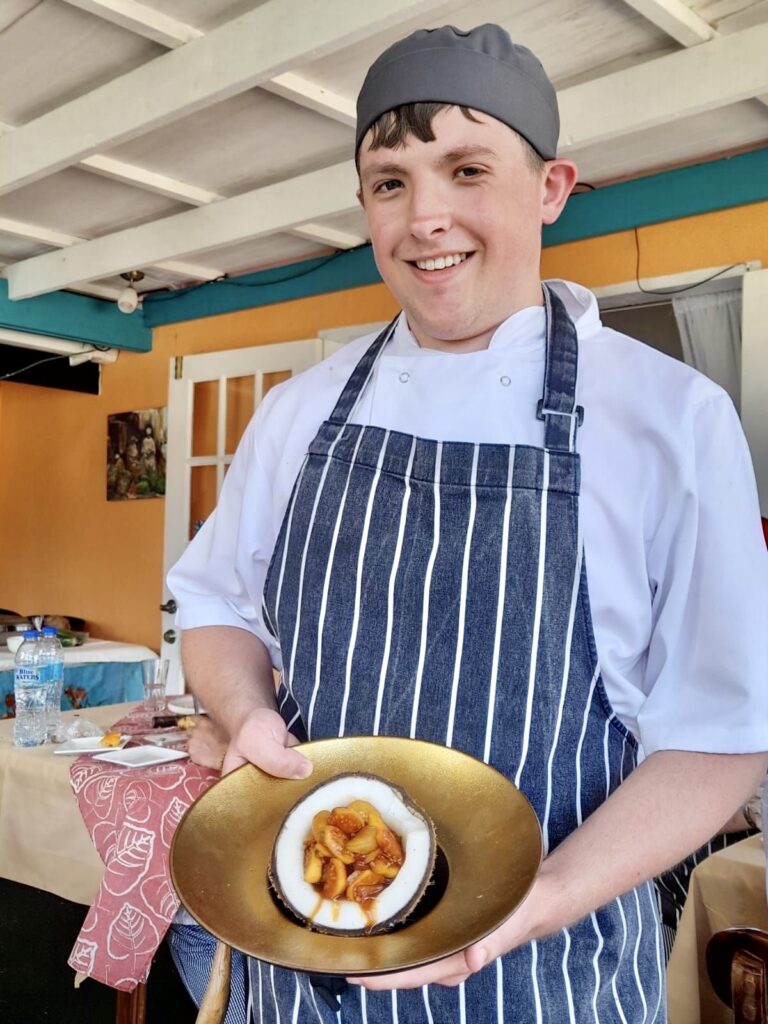 Turing-funded Sports Trip
For this project, we hosted 10 students studying Sports related courses for a two-week trip. The students were accompanied by 2 staff. The group had special access to work with young people across Saint Lucia including at the National Sports Academy and also the group took part in youth development work through sports at local schools. The group also benefitted from a number of really exciting sessions with expert sports nutritionists and psychologists to help broaden their knowledge.
For a real flavour of this trip, check out our video with feedback from students and faculty:
Impact for Students
We worked closely with our partner colleges to devise these bespoke programmes that met their course requirements and kept within the budget of the Turing Scheme funding. This meant that there was zero cost for the participants. This was extremely important as most of the students were from lower-income backgrounds, many of whom did not have passports, and had never left the UK before. 
The highly-successful trips were an incredible opportunity for these students, both in terms of the practical skills and experience gained from the programme to enhance their career prospects, but also as a chance to broaden their global horizons and experience a different culture. Our trips aim to develop our young people as people much as professionals.
Geology & Natural History of the Caribbean
For another perspective on a Caribbean Elective trip, check out our blog of the recent programme we ran for Harwick College in Upstate New York (non-Turing) with quotes from students and faculty, and here's a video summary of what they described as a trip-of-a-lifetime:
How to organise a Turing-funded trip in the Caribbean with Caribbean Elective
So, we know we've caught your interest. And the deadline is looming (March to April 2023). So let's get down to business and explain how the process works.
The first step is to set up a call with our co-founder Harry, who arranges all our Turing Scheme funded trips. You can email him directly – harry@caribbeanelective.com
On the call Harry with work with you to understand your requirements – what your aims and objectives are as an educational institution, and what type of programmes we could offer which would be a great fit for the range of subjects you cover. We will also consider how many students you'd like to offer the trip to when you'd like to go etc. 
Harry will then put together a bespoke project outline for you, fully costed and send all the details of the trip that you will need to write an amazing Turing Scheme application. 
It's now time to fill out the Turing Scheme application form, with Harry guiding you through the process.
Once you've received confirmation of Turing Scheme funding, we'll work together to finalise the trip – don't worry we will take care of all the logistics and provide support for arrangements before and during the trip itself.
Why choose Caribbean Elective for your Turing Scheme work experience programme
Cost-effective programmes. We fully understand the need to keep programme costs to a minimum. Our costs cover accommodation, and transport on the island including airport transfers, programme activities and meals can also be included. You will also get our amazing team in the Caribbean to support the running of your programme and cover all the logistics of the trip. If there are any costs that are not covered by Turing, we have lots of ideas of how these can be covered, including encouraging your students to plan fundraising activities. 
Bespoke trips tailored to your requirements. Caribbean Elective does not take a one-size-fits-all approach. This academic year we are running Catering, Construction, Childcare, Law, Mental Health, Politics and Sports programmes, but the possibilities are endless. We have some great new trips already developed and ready to go in areas such as Beauty, Music and Art. We are happy to work with you to develop a bespoke programme based on your curriculum requirements, aims and objectives and the requirements and budget allocations of the Turing Scheme. 
Experienced and trustworthy provider. Planning a trip to the Caribbean may seem daunting or logistically impossible. That's where we come in. We plan all accommodation, transfers, itineraries and more. Our on-the-ground staff ensure that everything runs smoothly, and resolves any unforeseen challenges. 
Some feedback from previous partners
"I cannot praise the experience the students gained on our trip highly enough. From the moment we landed Harry and his team were excellent, providing invaluable support. The trip provided students with a wide range of experiences of the St Lucian health care system, ranging from mental health provisions, to care for the homeless and young boys in care. The students returned from each experience filled with enthusiasm and confidence to take on the following day's activities. This is an experience I would highly recommend to anyone." Luke, Leader of access to HE at DN Colleges Group
"They tailored the program's science content directly to my wishes, yet also found ways to incorporate safe and illuminating cultural exchange with the people of the island. As a seasoned instructor and logistical director of off-campus undergraduate courses for the last 17 years, I can honestly say that I was able to relax a bit more and really focus all my attention to teaching, because I knew that the field crew of Caribbean Elective had a good handle on the logistics. We will definitely be using their services again!" David, Faculty at Hartwick College, USA
"As the International Placement Supervisor at a major education provider in South Yorkshire, Greater Lincolnshire and the Humber Region (United Kingdom) we partnered with The Caribbean Elective during our maiden Turing Scheme programme in 2021/22. The in-country logistics provided by Caribbean Elective, and the cultural experiences offered were something that we just would not have been able to provide without their expertise. From an academic standpoint, we worked closely with The Caribbean Elective, to reflect the career development aims of individual participants, meaning the itineraries produced provided each student with enhanced career prospects. The experiences that The Caribbean Elective team provided for our students in St. Lucia were quite literally life-changing and our learners have their eyes opened to the wider world and further opportunities as well as being equipped with valuable and real work experience. The change in the students upon their return to the UK is marked, the increase in their confidence visible. Our students wished to give a special thanks to all the staff at the Caribbean Elective including Harry, Sergio and Matt with a special mention from our groups for Shernice who the students absolutely loved! Thank you all so much and we look forward to working with you again in 2022/23." Liam, International Placement Supervisor, DN Colleges Group
Let's get started planning your Turing-funded project in the Caribbean with Caribbean Elective
Whether you are a Further Education (Sixth Form or College) or Higher Education (University) institution, we can work together to create a trip of a lifetime for your students.
The deadline for the next round of Turing Scheme funding is likely to be in March to April 2023. So contact Harry now to arrange a call – harry@caribbeanelective.com