>> This post is aimed at faculty and educators planning study abroad and work experience placements for students at further and higher education institutions in the UK. If you're a student, check out our blog on funding tips.
Caribbean Elective has been organising study abroad and work experience programmes in the Caribbean for over six years. And in this academic year alone (2021-2022), we'll be hosting over 250 students for work experience programmes funded by the UK government's Turing Scheme.
If you're not familiar with it, the Turing Scheme is the UK government's programme to provide funding for international opportunities in education and training across the world. It's a fantastic scheme and is giving thousands of students valuable opportunities to enhance their skillset and broaden their world perspectives.
If you're wondering how to organise a Turing-funded work experience programme for your Further Education (Sixth Form & College) or Higher Education (University) students, read on – we're here to help!
The deadline for applications to the Turing Scheme for the next round of funding is 29 April 2022 – just around the corner. For this round of funding, we will be running Caribbean work experience programmes from September 2022 to August 2023.
What does a Turing-funded programme with Caribbean Elective look like?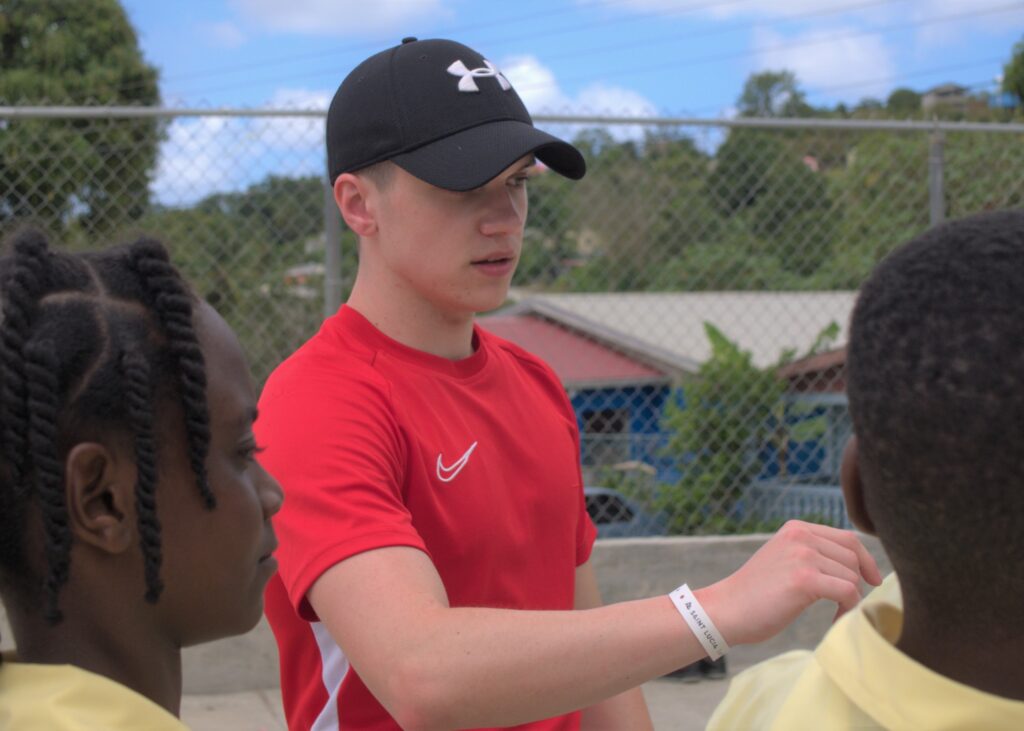 We recently hosted Doncaster College for two successful work experience programmes in the Caribbean, both fully funded by the Turing Scheme. Here's a quick summary:
Turing-funded Animal Care & Marine Conservation
We welcomed 10 students studying Animal Care and three faculty for a two-week action-packed programme. Students worked at the Saint Lucia Animal Protection Society helping to care for rescued animals and conducting marine conservation research.
Turing-funded Sports & Public Service
For this project, we hosted 10 students studying Sports Coaching or Public Service for a two-week trip. They had special access to work with the Royal Saint Lucia Police Force, National Sports Academy and take part in youth development work through sports at local schools.  
For a real flavour of this trip, check out our video with feedback from students and faculty:
Impact for Students
We worked closely with Doncaster College to devise these bespoke programmes that met their course requirements and kept within the budget of the Turing Scheme funding. This meant that there was zero cost for the participants. This was extremely important as most of the students were from lower-income backgrounds, many of whom did not have passports, and had never left the UK before.
The highly-successful trip was an incredible opportunity for these students, both in terms of the practical skills and experience gained from the programme to enhance their career prospects, but also as a chance to broaden their global horizons and experience a different culture.
Geology & Natural History of the Caribbean
For another perspective on a Caribbean Elective trip, check out our blog of the recent programme we ran for Harwick College in Upstate New York (non-Turing) with quotes from students and faculty, and here's a video summary of what they described as a trip-of-a-lifetime:
How to organise a Turing-funded trip in the Caribbean with Caribbean Elective
So, we know we've caught your interest. And the deadline is looming (29 April 2022). So let's get down to business and explain how the process works.
The first step is to set up a call with our co-founder Harry, who arranges all our Turing Scheme funded trips. You can email him directly – harry@caribbeanelective.com
On the call Harry with work with you to understand your requirements – what your aims and objectives are, what type of project(s) you're interested in, how many students you'd like to offer the trip to, when you'd like to go etc.
Harry will then put together a bespoke project outline for you, fully-costed and send all the details of the trip that you will need for your Turing application.
It's now time to fill out the Turing Scheme application form, with Harry guiding you through the process.
Once you've received confirmation of Turing Scheme funding, we'll work together to finalise the trip – don't worry we will take care of all the logistics and provide support for arrangements before and during the trip itself.
Why choose Caribbean Elective for your Turing Scheme work experience programme
Cost-effective programmes. We fully understand the need to keep programme costs to a minimum. Our costs cover accommodation, transport, programme activities and some meals. Where there are minimum costs that are not covered by Turing, we have lots of ideas of how these can be covered, including encouraging your students to plan fundraising activities.
Bespoke trips tailored to your requirements. Caribbean Elective does not take a one-size-fits-all approach. This academic year we are running Conservation, Law, Politics and Sports programmes, but the possibilities are endless. We are happy to work with you to develop a bespoke programme based on your curriculum requirements, aims and objectives and the requirements and budget allocations of the Turing Scheme.
Experienced and trustworthy provider. Planning a trip to the Caribbean may seem daunting or logistically impossible. That's where we come in. We plan all accommodation, transfers, activities and more. Our on-the-ground staff ensure that everything runs smoothly, and resolve any unforeseen challenges.
Let's get started planning your Turing-funded project in the Caribbean with Caribbean Elective
Whether you are a Further Education (Sixth Form or College) or Higher Education (University) institution, we can work together to create a trip of a lifetime for your students.
The deadline for the next round of Turing Scheme funding is 29 April 2022. So contact Harry now to arrange a call – harry@caribbeanelective.com